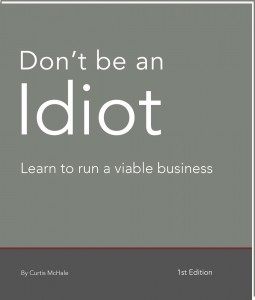 A few weeks ago, Curtis McHale emailed me asking about an interview for his book Don't be an Idiot: Learn to run a viable business. A few days later, we were scheduling the interview and then… my interview snippet was on YouTube.
I am honored to be among an amazing set of professionals, both business owners and freelancers: Brad Williams (@williamsba), Chris Lema (@chrislema), Charles Max Wood (@cmaxw), Carrie Dils (@cdils), Cory Miller (@corymiller303), Eric Davis (@edavis10), Jesse Petersen (@jpetersen), Shawn Blanc (@shawnblanc) and Tom McFarlin (@tommcfarlin).
Curtis brings to the table and out in the open a handful of hard questions that every designer starting their own business struggles with: Where do you start? How many hours a day will you be able to bill? How will you charge? Do you know how to budget? Everybody makes mistakes in business, and it's important that we learn from those mistakes. This book is a no-nonsense guide to running a small business and freelancing.
You can get Curtis' Book here, and there are 2 packages:
Book – $29
Book and Videos – $79
But… Curtis being as awesome as he is, he gave me a book to giveaway for free!
So, one lucky winner will get the book and videos (if he/she chooses) for free. All you have to do is leave a comment and I'll choose the lucky winner on September 25th.
The winner has been chosen!